Calculating Your Business Overheads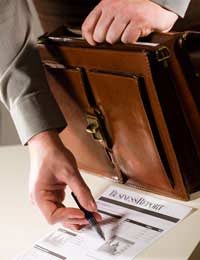 One of the biggest difficulties for the small business owner in a start up business is keeping overheads to a minimum. It can be easy to initially write your profit projection and not fully consider the number of business overheads involved in running your own business and if you don't take these seriously at the start, you could become one of the many collectibles businesses that simply can't afford to stay open as their profit margins are simply too tight.
What are Business Overheads?
Business overheads generally refer to the ongoing expenses that are involved in operating a business. These business costs are mainly things like advertising, insurance, legal fees, rent, rates, supplies, taxes, telephone bills, gas bills, electricity bills, internet bills and other month to month outgoing costs. For most people, calculating these before you've opened the business can be a bit of an eye-opener as the everyday running of your business gives you an indication of exactly how much money you need to make in your collectibles business to have a healthy profit margin. It is all too easy to underestimate the everyday necessities, but don't fall into this trap. Try and take out money from your business for rent, rates, utilities and more as early as possible so you're left with a good indication of how well you're doing.
Rising Costs and Your Collectibles Business
The average overhead costs for UK small businesses over recent years has risen by around 10% or more. This means that you're forced into a situation where you need to increase sales just to keep your business afloat. Rising overheads can be the thorn in the side of many small business owners, in particular rising gas costs, electricity costs and telephone costs. Since 2003, gas prices have risen around 91% with electricity prices following closely at 81%. Almost doubling outgoings in this area has led to many small businesses being forced to close, so you must consider ways of reducing costs in this area early on. Many businesses will be approached by alternative gas and electricity companies offering reduced costs to change to them or special discounts when you move your account.
For most small business owners, the 'hassle' involved in changing over is too great, meaning that the chance of real savings is being squandered. If you're approached by a rival company, listen to their offer and see if they're able to save you anything by switching. Many can simply swap it over without any trouble, requiring only a new contract to be signed. Combining your gas and electricity may also save you some money and all of this goes towards lowering your costs and increasing your profit margins.
Reducing Telephone and Internet Costs
One of the largest costs for a small business can come from internet and phone usage. Many companies are connected before the business opens and then simply leave their internet and phone with the one company, even if they're not tied into a contract. Around 61% of small businesses are paying around 300GBP a month on their landline contract and some paying almost the same again on their mobile. If you use a broadband connection for your internet use, you'll likely be paying a business premium on that also, which can push your costs up by a huge amount.
There are so many different options when it comes to telephone companies and internet providers now that it really is a key area to saving money in your business overheads. Look around for the best deal and if possible, take out a package that includes a landline connection, mobile phone connection and internet connection. These often offer the best savings and can be simple to change to. If you consider this, you'll find that you can reduce your collectibles business costs immensely and reap the rewards in your own salary.
Don't Forget Your Business Rates and Rent
For many small businesses, rates and rent can be crippling. When you sign your contract, try and ensure it's fixed for a certain length of time and if it is at all possible, pay it up front. It's very easy to keep putting off the rent or rates, but getting yourself into this situation is dangerous. Keeping the roof over your head in business is essential and the council or private owner you're renting for will be quick to put another business in your place if you're unable to pay. Trying to keep on top of all of these overheads should ensure that you have a good profit margin, reduce your business costs and have a successful attempt at your collectibles business.
You might also like...