Setting up a Business Account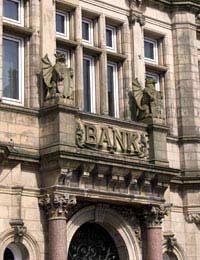 Getting your collectibles business set up can often be a long drawn out process requiring continual meetings with bank managers, business managers, economic development, suppliers, advertisers and more. Although it can be time-consuming and slightly draining at times, it's still very important to get all of your affairs in order before you open, so that it's easier to keep track of them from the offset. One of the most important is setting up a business account for your business and there are a variety of things to keep in mind when doing this.
Using your Personal Bank for your Business Account
One of the initial problems you'll face when setting up business banking, is deciding which bank to go with. Many individuals will simply go with the bank they have their personal account with and although this may seem like an easy choice, it can often be the wrong one. If you don't look around to see what is on offer, you may end up paying more than you need to in service fees and other business related fees. If you are determined to stay with the bank you use for your personal banking, ask to speak to their dedicated banking manager and explain that you're a loyal customer who wants to keep your business within the bank. They may consider offering you some deals to match other establishments and you could save some money in the long-term by taking this approach. The positive side of staying with the bank you already use is that it is most likely to be a local bank and thus you'll have easy access to it. You'll already be familiar with the staff there and in general how they work, so it shouldn't be too difficult to set up an account there for your business.
Choosing a New Bank for Your Business Banking
With the sheer number of banks and building societies that offer business banking these days, it can serve you well to look around. If you need a trading account, spend time researching all the different offers that banks have and invest a fair amount of time into understanding any charges or fees you may need to pay by having your business there. It can make a huge difference to your profits when you aren't paying out constant banking fees and it's nice to know that you're able to use their services without always having to pay to do so. There are a few different areas where you should investigate fees and charges:
BACS credit
Transfers to Personal Accounts
Direct debits, standing orders and bill payments
Debit card payments
Number of cheque deposits per month
What you're looking for with regards to the above is to see just what charges are associated with them. Many banks will now offer all of the above services free forever, whereas some will only offer them free for a certain period of time. The Abbey National, is one such institution that offers all of the above for free forever and you can generally find an Abbey National in most cities. Some banks such as NatWest offer a free 2 year business banking facility for startup businesses and they also have specialist business bankers in all of their branches. Large companies such as HSBC offer tailored business accounts dependent on your annual turnover and if you're a small business taking under 500,000 a year, you can open an account with up to 18 months free business banking and the ability to use online and text message banking. This can be handy when you simply can't make it to a branch and there are a variety of other banking institutions that offer similar services. The aforementioned banks are by no means comprehensive and it's really worthwhile searching around to get something that suits your individual needs.
What Type of Business Account do you Need?
There are numerous online websites that will help you decide on your trading account. They outline all the different positive aspects of business accounts at various institutions and make it easy for you to find the best one for you if you don't have the time to look around actual branches. Always consider the actual account type you need as these vary. You can get a business credit account, specialist business account, business savings account or business current account. Speak to the business managers or to your advisor and see what will be suit you. As a sole trader, you're not legally required to have a dedicated business banking or trader account, however it is easier to do this to keep your personal affairs completely separate. This will help when it comes to tax time and will also ensure that you're always aware of what goes through the business. There are some general questions you should also consider before finalising the type of account you need and where to hold it. Your decision should include:
Online banking and telephone banking options
Borrowing facilities
Interest rates and savings options
Merchant services
Opening hours
If you've full considered and researched every above, you'll hopefully conclude on a bank that suits your needs best and can start developing a good business relationship with them.
You might also like...