Selling Collectibles on eBay Successfully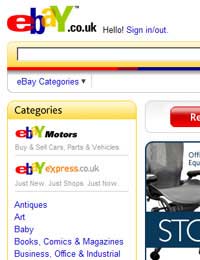 One of the largest growing sellers markets over the last few years has been online auction site eBay. After starting out purely as a place for people to get rid of old items they no longer want or need, it's emerged into one of the biggest marketplaces for sellers to sell their goods to a worldwide audience. With the backing of Paypal, a secure way of accepting credit cards for payments, eBay has proven to be a great place for those in the collectibles business to not only find rare gems at great prices, but to sell on items for a profit. There are a variety of issues to consider when you start selling on eBay however and learning them can save you a lot of time and money.
Starting Off With eBay
When you first step into the world of eBay it can seem a little daunting. If you haven't taken part in online shopping or an online auction, it can look completely alien, however the trick is to take your time and get to know the system. You can start off by building your own eBay profile page and buying items from other vendors to see how it works. Have a look around at what others are doing and when you decide to make your first listing, pay attention to the exact wording and lay out.
Getting the words right with your auction can make a huge difference and can bring in thousands of extra viewers to your listing, so spend time looking at what others do. Try to compose an eye-catching and descriptive title to get people interested and from there set out a succinct and informative description. For many eBay buyers, seeing the perfect picture of the item they're interested in can be the difference between bidding and not bidding. Make sure you take a great picture for your listing that shows the item at its best and if you have something extremely special, you can consider listing it in the eBay gallery for an extra 15p. This will give your item more exposure as it adds a thumbnail image to the search page.
Picking the Starting Price and Timing
When your item listing is all set to go, you need to pick a starting price for your auction. Starting the auction off at too high a price will put off many buyers so it's better to start lower. Look around and see what similar items have fetched so you have an idea of what to expect. Online auctions can be a cut-throat business, so decide on the lowest you'd be happy with and go with your gut feeling. Keeping your initial starting price low doesn't only attract customers, but also keeps your listing fees lower so you're saving overall. The final stage is deciding on when you want your listing to begin on the site. A great tip for sellers is to list your item so that it finishes on a weekend. Sunday night is a great time to have your auction end as many people are at home so are able to monitor their bids and can up their bids if they've been overtaken. It also means that you're home to immediately respond to buyers questions about the item should they have any.
Maximise Selling Through eBay
There are a number of ways to improve your profit margin from your eBay selling. Look for days where eBay have free listing days and put as many items on there as you can. Also, avoid short 1 or 3 day auctions unless you need to sell the item in a hurry. Putting your auction up for 7 days gives more buyers the chance to see it and allows you time to answer any incoming questions about it. You can save even more money when selling if you decide to accept cheques or money orders for payments. Although they aren't as immediate or convenient as Paypal, they don't charge you extra. Paypal will charge a percentage of the sale as well as a transaction fee on each item that is paid for through them. This can add up over time and if you can avoid it you should. If you have a large number of collectibles to sell, you could consider using a bulk listing tool such as Auctiva or Turbo Lister. These will let you upload lots of listings at the one time and then send them all to eBay to start when it suits. It can make life a lot easier to use these as you can be filling them in and saving them when your shop is busy or when you have some quiet time at home.
Sellers Rights and eBay
One of the long term complaints about eBay has often been that it doesn't protect sellers as well as it protects buyers. It has always employed a feedback system where individuals who sell or purchase items can rate the transaction as positive, negative or neutral. Recently, it has taken away the right of sellers to leave negative feedback about a buyer which has caused a fair amount of controversy. In order to protect your sellers right as much as possible, consider only sending items via registered post, so that should it go missing you don't have to refund the buyer. Also, always check buyers feedback before sending items on and always wait for payments to clear beforehand. If you set up a shop within eBay to take part in not only their auction process, but also their 'buy it now' process, make sure that you're familiar with their terms and conditions for online shopping. It will save you a lot of hassle in the future if you're aware of your rights now as a collectible seller online.
You might also like...