New Ways to Pay When Selling Online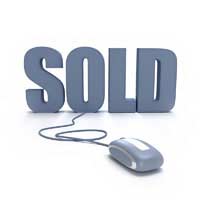 One of the biggest concerns for most sellers who are selling their collectibles online is when and if they're going to receive payment. With so much money being spent on online auctions and direct buying, it makes sense to be aware of different ways that your customer can get their money to you.
Offering a number of alternatives to the stock standard payment methods means that you will be open to more customers, but also means you'll need to be on top of exactly what you're selling and what funds come in. There are a few new payment methods around that you can use as an add-on to some of the more traditional methods.
Traditional Payments for Goods Online
If you have been selling online for some time, you're probably familiar with a number of different merchant accounts that accept online payments from your customers. Whether you have a dedicated server set up to process payments or simply use a third party platform, having the ability to pay online is essential for your business. The more traditional forms of accepting money online are:
PayPal – The worlds most common online payment system which gathered momentum through it's relationship with eBay
Nochex – A tool that allows you to pay others online without ever disclosing your credit card details
WordPay - Offers a number of e-payment and e-commerce solutions
All of these methods are extremely effective and have their own benefits, especially for the seller. Most will handle all the work for you and you'll simply receive an alert email to tell you that someone has paid. Other than that, all you need to do is transfer the money out of the online account to your bank account and pay any fees.
New Methods for Paying Online
Although PayPal is definitely still one of the most trusted methods for online payments, there are a number of alternatives out there that you can use. Some of the latest payment systems are gathering momentum and becoming popular, often because they have lower fees than some of the more well-known companies. Also, many are set up specifically to help merchants obtain payments and are focused more on the seller than the buyer.
PayPoint - Businesses can set up their own account in order to accept payments online and over the phone securely
SecureTrading - One of the UK's biggest independent payment processing companies
Netbanx - A wide range of payment options ensure that all your customers have a secure way of paying online for goods
There are many great aspects of each different type of payment software, however most have a number of things in common, whether they're old or new. Primarily, you need to focus on where you're planning to sell your goods, what kind of people are likely to buy them and the price range they'll be in.
Choosing a Payment Method
If you can choose a number of payment methods, do so. The more options for your customer, the better the chance of selling more of your collectible items. In a business that is extremely competitive, being able to sell to as many people as possible can be key to your success. If you decide to sign up with a dedicated merchant, ensure they take all kinds of payments – Visa, MasterCard, Maestro, Solo, Giro Pay, Ukash, American Express, Poli and more.
Think globally and be aware of extra features such as billing, invoices, emails, payment options and more than may help you organise your payments more efficiently. Also be aware of fees, there's no point in using a company that have extremely high fees. Ideally you want as much of your profit returning to your own pocket, not to a payment company.
You might also like...